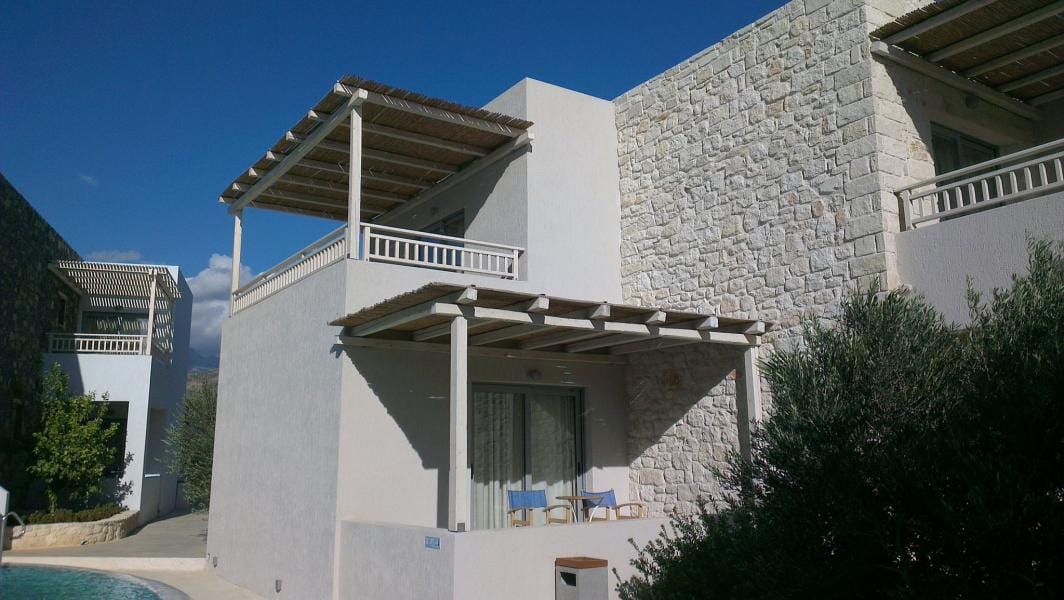 Renovation of the Hotel OSTRIA RESORT & SPA in Ierapetra Crete, with DUROSTICK products!
The hotel OSTRIA RESORT and SPA located in Ierapetra, Crete, chose to make the renovation of all spaces, the construction of new residences, the creation of pool and SPA areas and for this project they entrusted the products of DUROSTICK!
Katharades in Ierapetra, Crete, the location of the luxury OSTRIA RESORT and SPA, is a rugged place and is among the few places with strong winds all year round in Crete.
For the renovation of the hotel, which is located in an area with intense weather conditions, it demanded the appropriate materials for its external renovation and high quality materials for the renovation of its interior spaces.
The selected high performance tile adhesives GOLD, EXTRA POWER and ELASTIC, that combine strong adhesion, zero vertical slip and high flexibility, are ideal for such demanding applications. Also, the FLEXIBLE and OIL REPELLENT GROUT and the DUROPOXY grout with high chemical and mechanical resistance were selected.
For the renovation, the following products were also selected: DUROSTICK Microcement DS-252 FLEX, plasters such as the DUROSTICK D-42 ONE COAT, the ultrafine putty STUCOFIX-P, the resinous cement paste GRANULAR and the stone varnishes DUROSTICK D-12 and VISTA.
The painting of the interiors was made with the SUPER emulsion paint, while for the outdoor areas the high performance DUROSTICK 100% ACRYLIC paint was selected.
Finally, for the external thermal insulation of the hotel, DUROSTICK THERMOSEAL, the Certified System of Thermal Insulation and Energy Upgrade of Buildings, was selected.
In these conditions of natural beauty and demanding weather conditions, the hotel trusted and chose to renovate its interior and exterior spaces, build new homes, create pool & spa areas and part of the traditional village, with DUROSTICK materials!