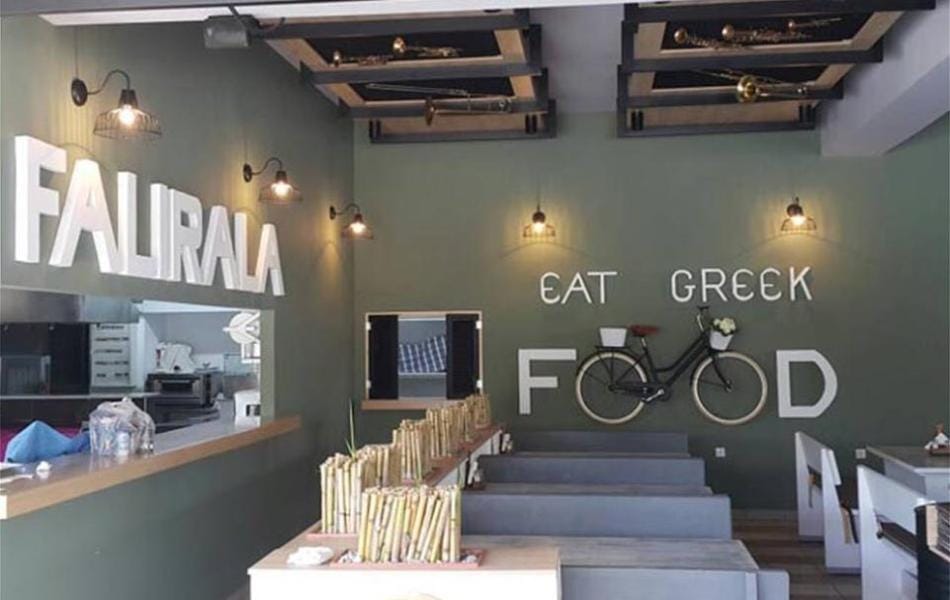 Renovation of 'Falirala Classics' with product-solutions of DUROSTICK
One of the most popular local and tourist restaurants in Faliraki, Rhodes, 'Falirala Classics' renovated its premises, aiming to become more friendly, hospitable, modern and intimate for its guests. The main partner in this unique renewal is DUROSTICK with a series of products that contributed in a unique transformation of the restaurant areas.
'Falirala Classics' was a meeting point for everyone in Rhodes, either for a quick snack or for a full and tasty meal, or for just a drink. The renovation of the premises, as well as the creation of a more lively and modern environment for the customers of the restaurant, was the key objective for its owners.

The transformation was really unique, compared to the previous state of the restaurant. For the decorative applications on the walls as well as on the countertops, we used the microcement in paste form DS-258 DECO MICRO FLEX. Thanks to its ease of application, it helped the craftsmen deliver the project in a short time and at the same time, gave the industrial but smooth result that was required. For the protection of the surface, the two-component polyurethane varnish, with matte finish, DECOFIN POLYURETHANE was selected, which emphasizes the natural light grey color.
The restaurant's walls were decorated with DUROSTICK's eco SUPER ECO ecological emulsion paint. Through the rich Color Collection of DUROSTICK, the owners selected the appropriate shades that matched the new style of the place. Finally, doors, wooden and metal surfaces were transformed using DUROSTICK DUROLUX AQUA. This waterborne wood enamel paint creates an elastic surface with great resistance to adverse weather conditions, frequent washing and chalking, thus making it ideal for areas with high foot traffic, such as this restaurant.