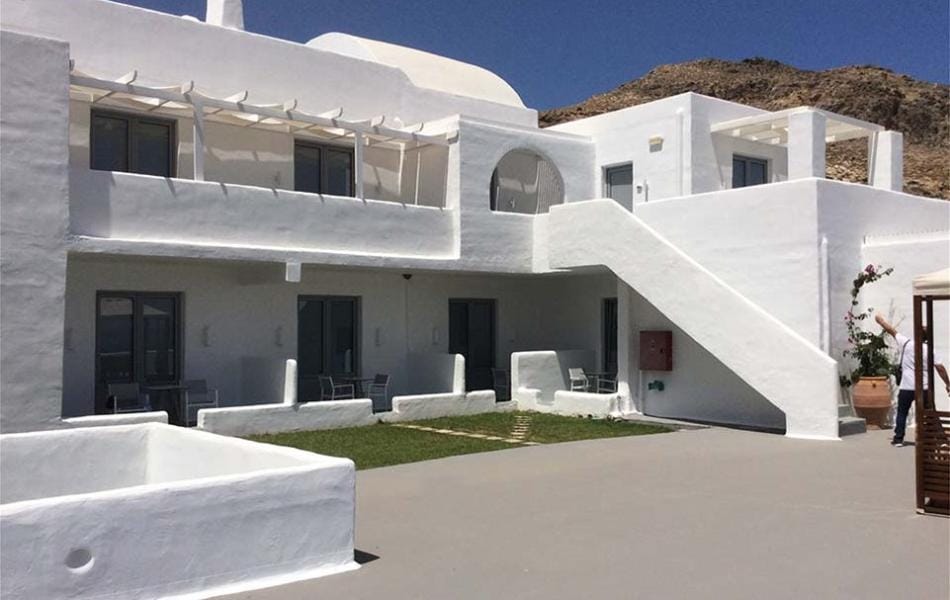 Lindos Sun, renovated its spaces with product-solutions of DUROSTICK
LINDOS SUN Hotel, one of the most preferred hotels for the visitors of Lindos, offers a unique combination of Greek traditional architecture and luxury. The natural beauty of the majestic bay where the famous movie 'Guns of Navarone' was filmed, makes it an ideal destination for regeneration, relaxation and unique moments.
The LINDOS SUN Hotel, faithfully serving its vision of providing a unique and high-design accommodation, proceeded to a series of renovations, having as its partner the reliable solution of the DUROSTICK products.
The special elegance of the premises and the rooms was upgraded with the renovation of spaces, such as the bathroom, with the unique decorative microcement selection of DUROSTICK. Specifically, from the rich range of DUROSTICK microcement, they selected the flexible DS-252 FLEX for walls and floors. It offers high decorative value but also durability over time, friction and humidity.
The DS-252 FLEX can be used on floors and walls on interior and exterior surfaces of concrete, plaster, as well as on light constructions made of gypsum board. Its high flexibility, allows for use in more demanding applications, where until now the application of microcement was not possible. Floors with radiant heating, vibrating floors and walls, surfaces made of marine plywood, terraces and balconies exposed to extreme weather conditions, are some of the applications that the DS-252 FLEX can cope with successfully. Its flexibility, in connection with its strong adhesion, allows for a wide range of applications. It constitutes the solution to new constructions, as well as renovations or reconstructions of spaces where there are old cement mortars, mosaic, old tiles, etc.
Finally, for the protection of the microcement DS-252 FLEX, the following varnishes were selected:  The 2-component matte varnish DECOFIN POLYURETHANE and the 2 component epoxy glossy varnish DECOFIN EPOXY SF of DUROSTICK.
Another need of the hotel was also to renew the waterproofing of the rooftop surfaces. For this project TECHNOPROOF of DUROSTICK was selected, an elastomeric water-soluble waterproofer.