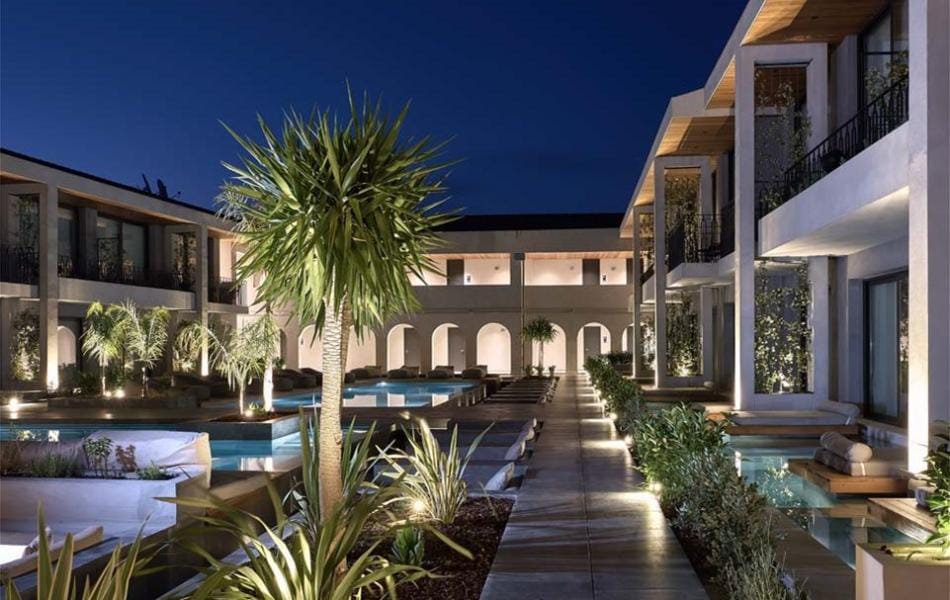 Contessina Suites & Spa. A unique destination in the island of Zakynthos / Greece.
The stylish Contessina Suites & Spa is a unique destination where guests can relax in the comfort of a modern suite, enjoy a swim in the private pool or a pampering massage at the spa before they taste the Mediterranean à la carte cuisine. DUROSTICK has participated in the creation of this unique project in the island of Zakynthos / Greece, with a series of products.
In the bathrooms of all 64 suites of the Contessina Suites & Spa, they applied the 2-component, solvent free epoxy paint, DUROEPOXY Floor SF. This product was also applied in the kitchen areas, as a brushable coating on floors that require high mechanical and chemical resistance. It effectively protects and decorates industrial cement-based floors such as kitchens, areas with high moisture concentration such as bathrooms, swimming pools, fountains, etc. The surfaces coated with DUROEPOXY Floor SF can come in direct contact with food. Certified by the State General Chemical Laboratory (PN: 04019/015/000) and meets the relevant conditions of regulation (EC) 1935/2004 and 1895/2005 as well as article 28 of the Food & Beverage code.
The aim of the Contessina Suites & Spa complex was, in addition to creating indoor and outdoor highly elegant spaces, the creation of a building complex that will be durable against time and use. Having that in mind, a wide range of DUROSTICK product solutions were selected, such as the repairing, resinous fiber-reinforced cement mortar with corrosion inhibitor, D-55, the reinforced tile adhesive PLUS (Category C2TE S1 according to ΕΝ 12004 and EN 12002), but also the choice of every technician for its ease of application and the incomparable result, the fiber-reinforced adhesive ULTRACOLL THERMO.
Contessina Suites & Spa is another building complex that DUROSTICK participated in its construction with reliable and innovative materials, satisfying the needs of the installers, but also offering a final work that is really admired by its visitors.
We thank Anima Vision for the unique photos of the hotel complex (www.anima-vision.com).