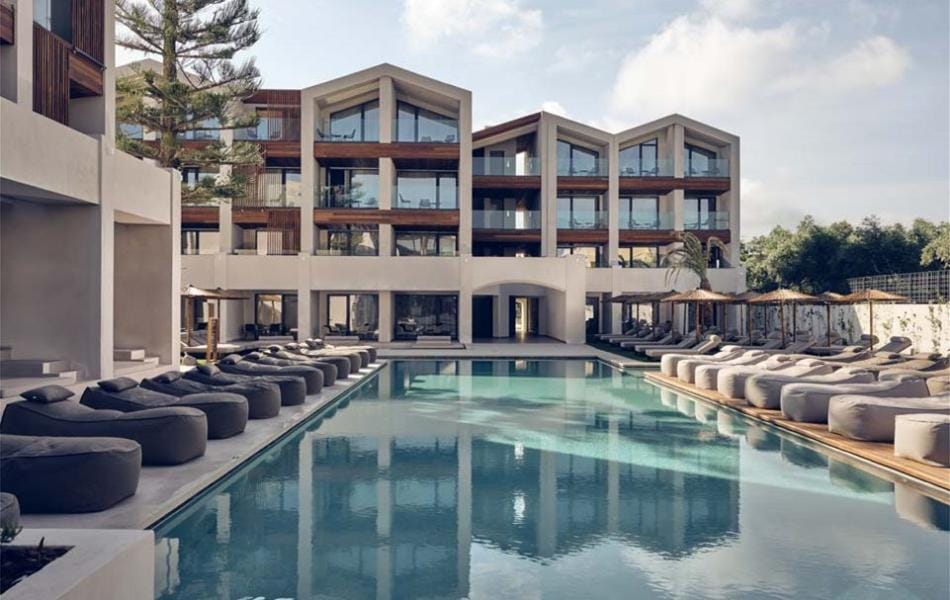 Contessina Hotel. Another hotel upgrade with DUROSTICK materials!
The Contessina hotel, in the area of Tsilivi in Zakynthos stands out for its state-of-the-art infrastructure, as well as for the high quality hospitality services offered to its guests. The recent renovation in the interior and exterior areas was very impressive, and DUROSTICK participated in the project with a wide range of products.
Externally, the facades of the buildings were shielded with the application of the Complete System of External Thermal Insulation and energy upgrade of buildings THERMOSEAL. DUROSTICK has studied, designed, certified according to the European standard ETAG 004, an integrated system of external thermal insulation of buildings [External Thermal Insulation Composite System (ETICS)] with the distinctive title 'THERMOSEAL', with an ETAG certification number: ETA-13/0006 and EEDA: ETA-13/0007, in the laboratories of BVFS in Austria. The certification received by THERMOSEAL is first class and the system is characterized as highly durable.
As a top classification of external thermal insulation systems, THERMOSEAL is the ideal choice for any type of construction in any climate zone. The products of DUROSTICK that participated in the external thermal insulation system THERMOSEAL are:
(By order of first applied product):
The quartz primer DS-255, to enhance the bonding of the insulating adhesive to the substrate.                  
The ULTRACOLL THERMO adhesive, a top choice for the unbreakable bonding of the thermal insulation panels of the system.
The DS-4160 fiberglass reinforcing mesh for thermal insulation systems.
The final stage of application is the covering of the system with a special plaster. Before its application, the surface was primed with the special primer for colored plasters, HYDROSTOP PLASTER PRIMER, in order to create ideal conditions of adhesion, between substrate and the finished plaster. The plaster chosen to complete the application is the smooth, flexible, water repellent and cement-based HYDROSTOP PLASTER ELASTIC. It covers the surfaces with a strong protective shield, which will protect the system from adverse weather and environmental conditions, from the ground vibrations and the mechanical stresses that the final surface will likely suffer during its lifetime.
Finally, for the exterior wooden surfaces, the elastomeric sealant and adhesive DUROWOOD DS POLYMER was used in the joints between the wood and the plaster, thus giving the application an unbreakable elastic seal. The DUROWOOD DS POLYMER is not affected by moisture, it does not favor mold growth and its color remains unaffected over time. 
Contessina Hotel has completed the upgrade of its external areas with a range of DUROSTICK products. DUROSTICK feels a special honor for its participation in this project, as part of a dynamic partnership of professional contractors and the hotel's management.

We thank Anima Vision for the unique photos of the hotel complex (www.anima-vision.com)