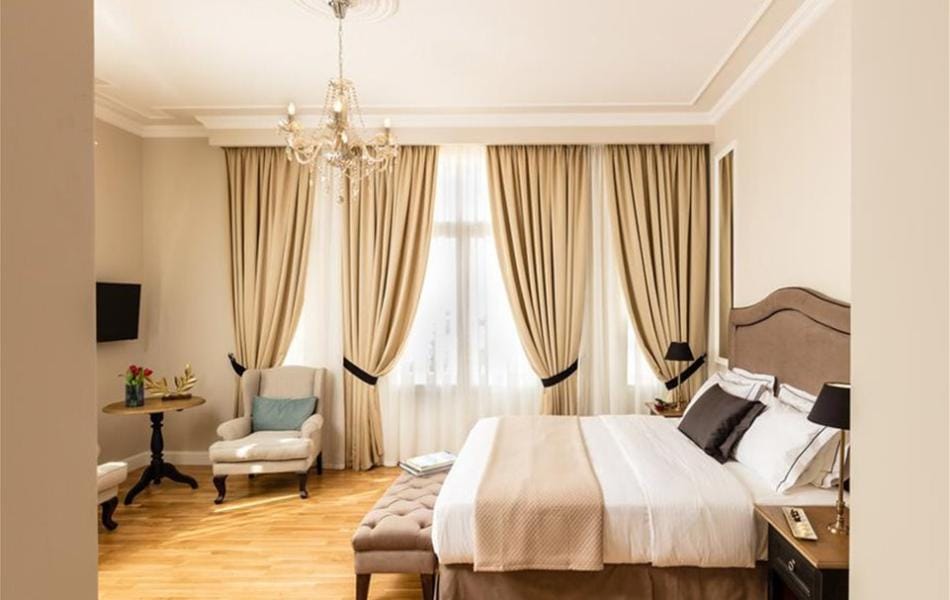 Athens Mansion Luxury Suites. A new hotel in the heart of Athens with the signature of DUROSTICK!
Athens Mansion Luxury Suites is located in the center of the city and is the ideal choice of accommodation for those visiting Athens for recreation or business. The last few months, it has been welcoming guests in unique spaces, created through the rich range of DUROSTICK products.
For the interior decoration of the premises, DUROSTICK microcement was chosen and specifically the flexible microcement for walls and floors DS-252 FLEX. The specially fiber-reinforced formula of this mortar makes the microcement DS-252 FLEX particularly resistant to friction, micro vibrations, rapid temperature variations and adverse weather conditions.
For the protection of the microcement, we applied the special, two-component epoxy varnish with gloss finish DECOFIN EPOXY SF, ideal for microcement and natural stones. Its application on the final surface of the microcement gives a hard, non-absorbent surface that does not favor bacteria growth. This makes it ideal for places with strict hygiene requirements, such as bathrooms, swimming pools, high humidity areas, but also for dining and hospitality areas.

The distinguished Athens Mansion Luxury Suites completed every internal and external construction by using many other products of DUROSTICK, such as tile adhesives and grouts. The tile adhesives selected were the ACRYLIC and GOLD, two well-known adhesives that have been used for years to install millions of square meters of tiles all over Greece. The installation was completed using the range of cementitious tile grouts of DUROSTICK.   
For the waterproofing of the premises, the waterproofing mortar for floors, walls and basements D-1 was selected, as well as the HYDROSTOP WATERTANK (Professional), the two-component mortar for demanding waterproofing.
For the interior and exterior spaces, the ecological emulsion paint SUPER ECO, for indoor use and the 100% ACRYLIC paint of DUROSTICK, for outdoor use, were selected.